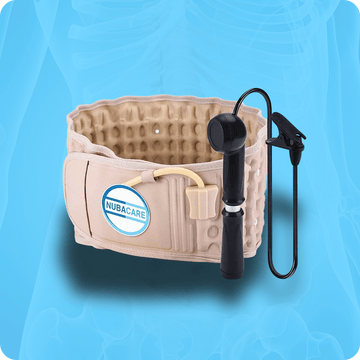 NubaCare™ | Lumbar Decompression Support Belt
Back Pain Affecting Your Mobility?
Providing a range of adjustable compression, our NubaCare™ | Lumbar Decompression Support Belt is designed to treat a variety of lower back injuries and conditions. When you wear this belt, you will receive maximum lower and mid back support. The NubaCare™ | Lumbar Decompression Support Belt supports the spine from the L1 to L5 vertebrae, relieving the majoirty of of lower back pain.
View Product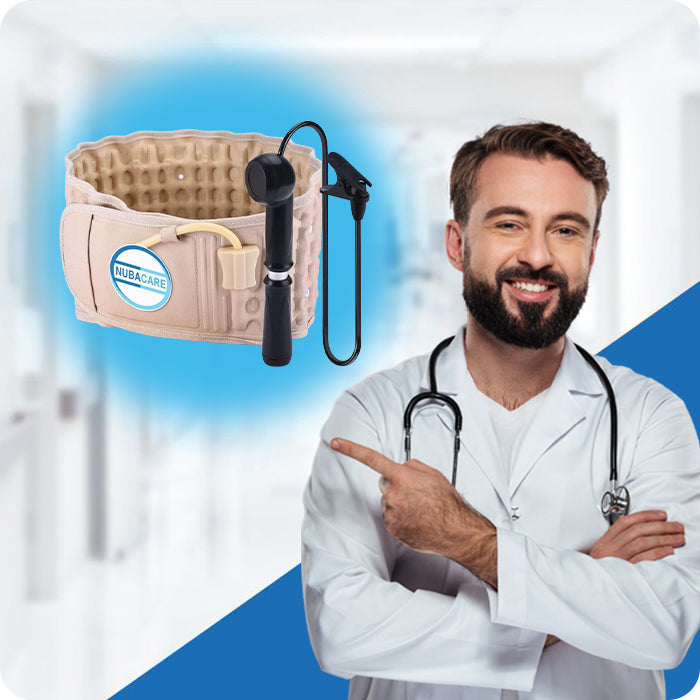 Improve Your Life Today
NubaCare™ | Lumbar Decompression Support Belt
is a clinically proven technology approved by many
doctors and chiropractors; it can be used in both upper and lower
back pain treatment without having to resort to
expensive and invasive surgery or side effects of medicines.


NubaCare
Frequently
Asked Questions
The NubaCare™ | Lumbar Decompression Support Belt works by gently stretching your spine, relieving pressure on your discs and nerves. This improves blood circulation to your lower back. As the belt inflates, it helps to create space between your vertebrae, allowing for natural healing and pain relief."
NubaCare™ | Lumbar Decompression Support Belt provides both traction and physical decompression - that makes it extremely effective and easy to use. This not only helps reduces the strain and pain on your back but also helps improve your posture.
NubaCare™ | Lumbar Decompression Support Belt is clinically proven to help relieve pain from Lumbar Disc, Sciatica, Muscular Weakness, Scoliosis, and many other conditions

No one likes to be limited by their aching back and miss out on life's great joys. With this pain relief solution, you can once again enjoy time with loved ones, gardening, or whatever it is that you love to do.
You can wear this belt anytime throughout the day: during exercise, at work, while driving, and more. You should always follow a doctor's instructions regarding use. In any case, you shouldn't wear any back brace constantly so that your core and back muscles maintain their strength.
Very useful for my degenrative disk
"I've got a degenerative disc in my lower back and I suffer from sciatica from time to time If I get the belt on when I first start feeling uncomfortable it will reset my back fast. if I don't it still helps but I have to wear it longer to get the best effect. It is really going to depend on what's wrong with your back as to weather or not its going to help you."
Simple to use
"My back pain has been a problem for years. I've seen doctor's, chiropractors and acupuncturists, and not one of them has been able to come close to the amount of relief I was able to get with this belt. It came fast and I was able to start using it immediately (directions were easy) and so far, the support from this brace has been what I've been needing."
Very Satisfied
"I got the belt 3 days ago. I use it 5 times daily for 30-45 minutes each time. The decompression belt alleviated the majority of my low back pain the first time used. I was also able to sleep most all night after using it about an hour prior to going to bed. I am sure that the relief will only improve with consistent use."
Love it a lot
"I love this belt! When I would sit for an extended period of time, my back would hurt for about 5 minutes when I would stand. With this belt, I do not get that pain. And the belt is not fully inflated. I have told my coworkers about this belt. If you have back pain, you want this product."
This works really well for me
"I have arthritis in my back. This product helps relieve my pain and definitely provides back support. I use mine daily, some days I pump it up more days than others depending on how much support I feel I need. I wear it 1 hour on, and 1 hour off throughout my day. I definitely recommend this!"